Patio Cover Products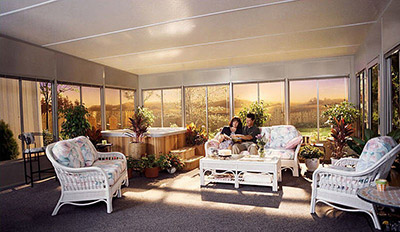 Well-built shade structures are ideal for transforming your backyard into a more usable living space. A patio cover helps create a practical and efficient space in your yard to socialize with family, host backyard parties, or enjoy a relaxed evening. It adds dimension, character, and balance to a backyard while increasing its usability and your property's value. Patio covers are among the latest trend in remodeling to expand your outdoor living area on an existing property.

At Patio Covers Galore we provide the following covers, pergolas and sunrooms:

Sunrooms: the addition of a sunroom to your home will add so much to your lifestyle and the value of your property. A sunroom will add a new living area to your home, and will also provide you with a new place to sit and relax or a place to add an office or study area. Read More About Sunrooms >>

See Through Patio Covers: an option for those that to let all the sunlight in possible is of course a see through patio cover or pergola. The great thing about this see through material is that it allows maximum light without any of the ultra violet rays. Talk to us about the other benefits and durability. Read More About See Through Patio Covers >>

Insulated Patio Covers: would like to deaden the sound of rain and wind while you are sitting outside underneath your patio or pergola? If the answer is yes, then we have the ideal product for you - insulated patio covers. This material is manufactured to insulate some of the sound of the elements while allowing you to hang lighting and fans, etc. Read More About Insulated Patio Covers >>

Lattice Patio Covers: at Patio Covers Galore, we can install you a lattice patio pr pergola cover. Lattice can look really appealing and add a stylish structural appeal. We can offer you a range of lattice designs so that you can choose one to complement the look of your property. Read More About Lattice Patio Covers >>

Flat Panel Patio Covers: typically, flat panel patio covers are made from aluminum. They are designed to give you complete sun protection and are also watertight. Nowadays, there are many colors available so that you can match the color scheme of your property features. Read More About Flat Panel Patio Covers >>

Sundance Louvered Patio Covers: We are proud to present the Sundance Louvered Roof patio cover, which allows homeowners to control the amount of sunlight and shade coming in to their patio via a Louvered roof cover. Read More About Louvered Patio Covers >>

Here at Patio Covers Galore, it is our goal to make your visions a reality. All of these amenities increase your home's aesthetic appeal and value. Additionally, installing patio shade structures in yards offers many advantages. Because a cover provides some protection from the elements, you can enjoy the space beneath it at any time of year to bask in the loveliness of your surroundings. Whatever your preferences, we are here to provide the best patio cover structures to match your style and budget. Give us a call on 510-363-5547 today!

Proudly serving the Bay Area and Greater Bay Area cities in California, including: