Pergolas in San Francisco, CA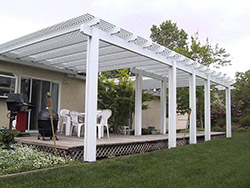 At Patio Covers Galore, we offer the best pergolas that are built to perfection. We can create both prefab and custom-built units that will surely merit our clients' overwhelming nod of approval. We have actually designed and installed numerous units in various areas in San Francisco, Hayward, and Union City. Ultimately, our keen attention to details, adherence to best practices, and ability to perfectly capture our clients' ideas have made us the best company to hire for such project.

Call us now at 510-363-5547 for further inquiries.


What Makes Us the Best Pergola Installers?
While it's true that there may be other equally skilled pergola installers across California, our company stands out because of several fine qualities. These are some of the reasons why we are the most trusted installers of premium pergolas in San Francisco:


Quality pergolas. We don't just create a so-so pergola but build extraordinary ones. From the design, construction, and durability, you can expect only the best from the pergola that we will create for you.


Decades of experience. We have more than 35 years of experience in this business, so you can count on us to use our experience and knowledge in realizing your dream pergola.


Lifetime guarantee. Not all pergola installers can offer the same lifetime warranty that we provide. We are simply that confident of our superb craftsmanship and work quality that have been tried and tested by many clients.


Expert installation. There are certain techniques involved to create a pergola that can pass high standards of clients. From the way it is designed to the manner by which the components are pieced together, it takes expert installers like us to build a world-class pergola.
How We Build Pergolas
As we've said, it takes a lot of things to ensure outstanding pergolas. Our installers are fully aware of such fact which is why they always consider certain things when handling installation projects. For example, we take into account the specific functionalities that you want for your pergola, like turning it into a place of weekend barbecues or as a ready venue for your socialization.

Additionally, we consider the exact location of the pergola – whether you want it built at the center of your yard or you want us to install it close to your pool deck. We also value aesthetics so we only pick the design that will best suit your design needs and preferences.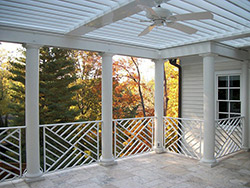 Pergolas: Prefab or Custom Built?
There are two general types of pergolas that you may choose from: prefabricated and custom built. With a prefab pergola, you can simply take your pick from our samples, and we'll have your choice installed in a day or two. That way, you can immediately enjoy the different benefits that a pergola has to offer.

However, if you like your pergola built just the way you like it, then a customized one is ideal. We can build your dream pergola according to your preferred design and install your desired amenities. You can also choose the exact location or dictate the size and even the materials to be used.


The Best Pergola Installers in San Francisco, CA
Clients in San Francisco, CA and other cities we serve can rely on our decades of experience in designing and building world-class pergolas. Apart from our superb work quality, you can also expect competitive pricing. In fact, this perfect balance of quality and price is the biggest thing that sets us apart from the competition. So waste no more time and hire us soon!

Proudly serving the Bay Area and Greater Bay Area cities in California, including: