Patio Covers in Hayward, CA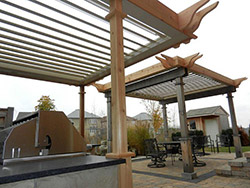 Our company has been the leading provider and installer of premium quality patio covers in California. For more than three decades, we have installed countless covers for property owners in Hayward, San Francisco, Union City, and surrounding areas. Our clients from these areas commend us for using high-quality products and providing them excellent workmanship.

Allow us to improve the functionality and aesthetics of your patio by getting our services today. Our wide range of available designs and types of patio covers will definitely make your outdoor living area a better place for rest and relaxation. Call us today at 510-363-5547 to learn more about our offered products and services.


Expert Installers of Premium Patio Products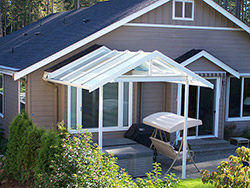 At Patio Covers Galore, we offer only premium products from reputable manufacturers. We carefully select them to ensure that only the finest products are included in our inventory. All the products that we offer and install are guaranteed durable, aesthetically appealing, made from the finest raw materials, and manufactured using the latest in technology. In fact, our products come with a lifetime guarantee to assure clients about the quality of our product lines.

Quality installation is another factor why we are the top choice of most homeowners in Hayward and surrounding areas. We have expert installers who are properly trained in installing different types of patio covers. They have completed countless installation projects not only in residential properties but also in commercial areas.


Wide Range of Available Patio Covers in Hayward, CA
Our complete line of patio covers allows us to cater to the needs of all types of clients. We have a wide selection of covers that can suit our clients' requirements and discriminating taste. From the colors and designs to the types of materials and features, clients can always get the perfect one for their patios.

If you also need one for your patio, you can choose from any of these options: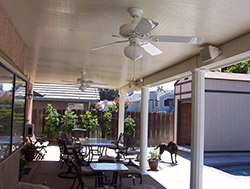 Lattice. The lattice type is still a popular choice because of its classic look. Our lattice patio covers are available in wood-grain finishes and various styles and colors.


See-through. Our see-through cover is your best choice if you want maximum protection from the elements. It is made from a revolutionary material that efficiently blocks UV rays and reflects heat.


Louvered. This type of patio cover is gaining popularity because of its versatility. It can be remotely controlled and adjusted up to 180 degrees. With the louvered type, you can limit the amount of light or shade that passes through the cover.


Flat panel. We can also install premium grade aluminum flat panel covers on your patios. They can be installed freestanding or attached to a wall. They are easy to maintain and long-lasting.


Insulated. If you want to make your patios more comfy and functional, then opt for insulated covers. This type allows for the installation of other amenities such as fans, lighting, and skylights.
The Authority in Patio Cover Installation
At Patio Covers Galore, you can take advantage of our more than three decades of experience in patio design, installation, and improvement. When you hire us for your patio cover needs, you'll be assured of first-class products and expertly installed patio covers. Contact us now at 510-363-5547.

Proudly serving the Bay Area and Greater Bay Area cities in California, including: